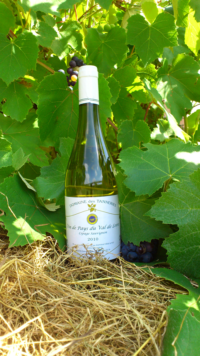 Our wines
Planted on siliceous earths between the Cher and Indre, our vineyard of Châteaumeillant AOC covers an area of 12 hectares, produces red and white wines and a famous grey wine, glory of local Berrichon.
Our white

Produces from Sauvignon grape variety with winter sun dress sparkle. His harmonious flowery aromas with hazelnut notes is a pleasant sweetness will envelop delicately the palate for all to enjoy.
Tip : We suggest you to enjoy it like an aperitif. Better, it will perfectly add value to your crustaceans and fish dishes.
Ideally serve well chilled to 6 °.